SMART Marketing.
By creating content specifically designed to appeal to your dream customers, inbound marketing attracts qualified prospects to your business and keeps them coming back. This type of marketing becomes relevant and helpful to your customers, not interruptive and annoying, something they actually appreciate and like.

With a comprehensive Inbound Marketing project, we offer a team of specialists and design a strategy tailored to your company. We do Automated Marketing. This means that we get prospects and track their activity on your website. We send the right information at the right time to introduce them to your products and services. With automatic and intelligent rules, we notify your sales team when a lead is ready.
How Inbound Marketing works:

1) ATTRACT.
Attract the right traffic to your website, people who are most likely to become leads, and, ultimately, satisfied customers.

2) CONVERT.
Convert those visitors into high-quality leads by gathering their contact information in exchange for content that is of interest to them.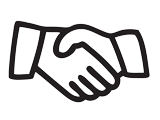 3) CLOSE.
Convert your leads into customers by nurturing them with e-mail automation and workflows that will boost sales.
4) DELIGHT.
Not forgetting about your customers once they buy from you, inbound companies continue engage with delight with their customers.